Take a look at five famous business partnerships to discover how they met and why their co-founder relationship worked.
You don't have to start a business with a co-founder, but it often helps to have someone by your side. In fact, some of the world's most successful business partnerships have been the result of two people with different skill-sets joining forces to create a successful business that they could never have achieved alone.

William Procter and James Gamble (Procter & Gamble)
How they met
William Procter and James Gamble were brothers-in-law, related by marriage. Procter was a candlemaker and Gamble was a soapmaker, but it was their father-in-law's idea for them to join forces and become business partners. They formed the partnership in 1837 and eventually they went on to become one of the world's most successful corporations.
Business success
The combined company soon gained popularity throughout the U.S. The American Civil War boosted the company's fortunes even further, when the Union Army awarded two contracts to P&G to supply its soldiers with soap and candles. And when those soldiers returned home, their households stayed loyal to the P&G brand.
P&G became the first company to advertise nationally across America and still spends more on advertising in the U.S. than any other company – its sponsoring of radio serials coined the term 'soap operas'.
The invention of the electric lightbulb led to the decision to prioritise soap production over candles and, over time, industrialisation helped the firm to look into innovative ways to make the production of soap less costly and time-consuming.
This led to a number of new ideas and helped P&G expand by developing a vast array of cleaning products, everything from shampoo to dishwashing.
P&G would go on to invent and produce some of the most common products in American homes, making itself a true 'household name'.
Why their partnership worked
Their partnership may have been the suggestion of their father-in-law, but it was the shared values of Mr Procter and Mr Gamble (P&G was one of the first companies to give its employees shares in the company's profits) that made it such a successful partnership.
Together, Procter and Gamble built an incredibly successful – and trusted – retail brand
Bill Hewlett and Dave Packard (Hewlett-Packard)
How they met
Bill Hewlett and Dave Packard met as classmates in the Stanford University's engineering programme. After they graduated together in 1935, they decided to celebrate by taking a two-week camping trip. During this time, they became firm friends and decided to start a business together.
According to legend, they tossed a coin to decide whether they would call the one of the world's most well-known partnership businesses Hewlett-Packard (HP) or Packard-Hewlett.
Business success
They started creating electronic circuitry equipment, working out of a rented garage with an initial capital investment of $538. One of their earliest customers was the Walt Disney studio, and they went on to develop counter-radar technology and artillery shell fuses during World War II.
HP wanted to stay in scientific, business, and industrial markets, and gained worldwide respect for launching a variety of technological products for university, research and business users, including the world's first personal computer in 1968 and the first handheld scientific electronic calculator in 1972.
Why their partnership worked
Friendships can be tested when you introduce business into the equation. But Hewlett and Packard remained good friends throughout their working lives. They had similar strengths and management styles and they both had a very strong work ethic, staying heavily involved in the day-to-day running of the business.
Perhaps more importantly, their easy-going nature and genuine affection for one another helped to foster a social, supportive and nurturing culture within HP, at a time when these were rare qualities to be found in a work environment.
Together they created an innovative, creative working environment that allowed their employees – and their own business partnership to thrive.
Ben Cohen and Jerry Greenfield (Ben & Jerry's)

How they met
The story of Ben and Jerry is the story of one of the most enduring and endearing business partnerships. Ben Cohen and Jerry Greenfield met during high school gym class in 1963 and became instant best friends.
According to Ben, they were "the two slowest, fattest kids in class". After leaving school they went their separate ways. Jerry wanted to be a doctor but eventually settled into a career as a lab technician.
Ben tried a number of jobs including a cab driver, cook and teacher. By the time they were 25, they had resumed their close friendship and decided the best way to carve out a career for themselves would be to start a business together.
Business success
Since they had always bonded over food, they took a correspondence course in ice cream technology. As Jerry recalls: "Naturally we got 100 per cent in all the tests. At last we had found a type of education that we really excelled at."
They opened their first ice cream 'scoop shop' in Vermont in 1978, which became an instant hit with the community. In 1981, they expanded by opening their first franchise store.
They continued to develop their signature flavours (including Cherry Garcia, Chocolate Chip Cookie Dough and Chunky Monkey) throughout the 1980s. Although some later flavours such as Fred & Ginger, Oh Pear and Sugar Plum didn't fare so well.
But customers have continued to be drawn in by the pair's sense of humour and friendly vibe – Ben & Jerry stores still give away free scoops on the anniversary of the first store's opening.
Why their partnership works
Ben and Jerry managed to turn a friendship into a highly successful business, but a large part of their success is down to their unique business approach that prioritises community engagement before profit. Both Ben and Jerry have a good understanding of their co-founder dynamic.
According to Ben: "Jerry personifies the company. He has an incredibly warm, caring, personal style, and he spends a lot of time with our employees".
In Jerry's words: "Ben is the creative driving force behind the company, and I am in the supportive role. Ben is a real risk-taker and he is never satisfied, which is great for the business".
Larry Page and Sergey Brin (Google)
How they met
Famous business partners don't always start out as good friends. Larry Page met Sergey Brin when he visited the Stanford University Palo Alto campus in 1995. Sergey Brin was a volunteer student guide, and Page was planning on enrolling on the same doctorate program in computer science.
Sergey Brin's family came to the US from Russia when he was six years old. It wasn't exactly friendship at first sight. Page recalls: "I thought he was pretty obnoxious. He had really strong opinions about things, and I guess I did, too".
Brin's recollection is more sanguine: "Obviously we spent a lot of time talking to each other, so there was something there. We had a kind of bantering thing going".
Business success
After Larry Page enrolled in the course the pair worked together on a research paper called "Anatomy of a Large-Scale Hypertextual Web Search Engine".
This became the basis for a new type of internet search engine. They launched Google in 1998, and it remains one of the most successful dot-com businesses in history.
Although starting initially with a search engine, Google has continued to expand rapidly into other areas, offering services such as maps, social networking, operating systems for Android phones, a suite of productivity software, video sharing, virtual reality and Artificial Intelligence, and even self-driving cars.
Why their partnership works
Despite their differences, Page and Brin were academics who bonded over their passion for data mining. This led to them becoming almost reluctant entrepreneurs, but with the determination create a unique vision for their company and build Google on their own terms.

Paul Allen and Bill Gates (Microsoft)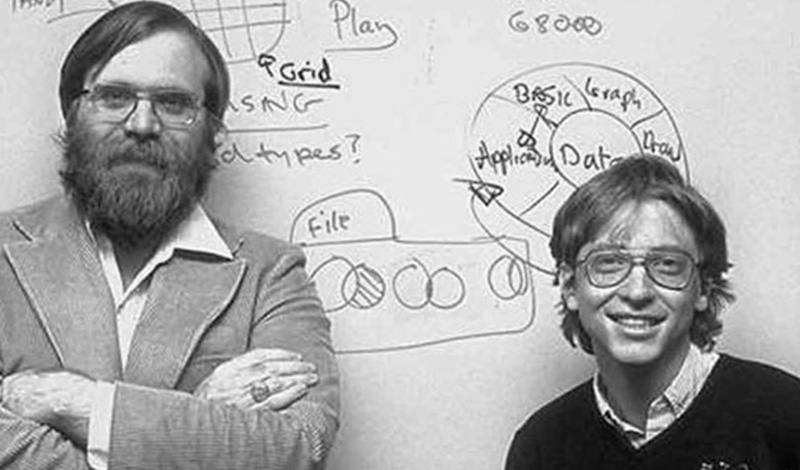 How they met
The co-founders of Microsoft met while they were both still in school and soon become "partners in crime". Bill Gates said: "I met Paul Allen when I was in 7th grade, and it changed my life. I looked up to him right away. He was two years ahead of me in school, really tall, and proved to be a genius with computers. Later, he also had a very cool beard, which I could never pull off." It was at school where they both learned to write computer code.
Although Bill Gates is credited as being the driving force behind Microsoft which launched in 1975, he readily admits that the business would never have started without Paul Allen.
"One day at Harvard he showed me the cover of the January issue of Popular Electronics. It featured a new computer called the Altair 8800, which ran on a powerful new chip… Paul looked at me and said: "This is happening without us!" That moment marked the end of my college career and the beginning of our new company, Microsoft. It happened because of Paul".
Business success
Microsoft launched its Windows operating system in 1985, which came to dominate the personal computer market, at one point owning a 90% market share. By December 2000, Microsoft had a market capitalisation of £510 billion, making it then the world's most valuable company.
That was the high point for one of the world's most successful business partnerships, and they both stepped ultimately away from the company they co-founded.
Why their partnership worked
Although known as computer pioneers and entrepreneurs, today Paul Allen and Bill Gates are arguably just as well-known for their philanthropy.
Paul Allen died in October 2018, but during his lifetime he reportedly gave more than $2 billion towards the advancement of science, technology, education and wildlife conservation, as well as supporting the arts and community services.
Gates said that Allen "had a wide-ranging mind and a special talent for explaining complicated subjects in a simple way".
Find out how the co-founders of Octopus got started by visiting our co-founders page.